All content Copyright © 2007-2020 Emerald City Supply Ltd.
Growing Media
>
Alpha Mix Organic Soil
Alpha Mix Organic Soil
A sensational development in professional soil formulation. Alpha Mix is formulated by a noted European agronomist and blended from carefully chosen organic ingredients.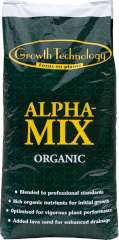 Ingredients for Alpha-Mix:
Careful selections of black peat and white sphagnum peat extracted from sustainable Baltic sources.
Natural lime.
Pure worm casts.
Blended organic nutrients for early growth.
Volcanic lava sand for enhanced drainage.
Alpha-Mix is significantly drier than other soils on the market. It is designed to offer maximum aeration to the root zone and to resist waterlogging. This is the characteristic that delivers faster and more vigorous growth, and is a product of the careful professional approach to the formulation of this product.
Professionally formulated by experts.
Supercharged with organic nutrients for explosive growth.
Contains lime to stabilise pH.
Designed for optimal aeration of root zone.
Contains pure worm manure for long term fertility.
We believe Alpha-Mix is the best growing medium on the market.
Massive £130 discount on pallet quantities!