All content Copyright © 2007-2023 Emerald City Supply Ltd.
AutoPot
>
Autopot 1-Pot System
Autopot 1-Pot System
A range of innovative self watering systems based on a gravity supply. Reliable and simple automation for all vegetable crops.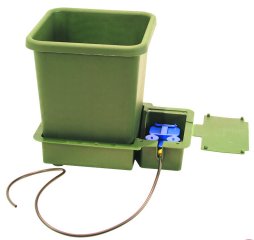 The One Pot System
The One Pot System is a single 15 litre pot and tray, which has a separate cavity for the AQUAvalve. The One Pot System is extremely versatile and can be used for a wide range of plant types and sizes. Seasonal flowering plants and perennial shrubs thrive and produce an abundance of blooms and foliage because of the constant even watering and nutrients they receive via the AQUAvalve.
Extending the One Pot System
The system is infinitely extendable. Provided the tank is big enough you can just add more pots - to fill any greenhouse or growing area.
Please see the diagram to see a typical layout.