All content Copyright © 2007-2023 Emerald City Supply Ltd.
Nutrient Solutions
>
Crop-specific Nutrients
>
Cactus Focus
Cactus Focus
Balanced nutrient solution for cacti and succulents.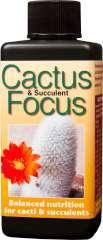 Cactus Focus is specifically formulated for healthy growth and flowering of the widest range of cacti and succulents.
Contains all necessary macro- and micronutrients, as well as organic plant extracts such as humic and fulvic acids.