All content Copyright © 2007-2023 Emerald City Supply Ltd.
Plant Propagation
>
Clonex Rooting Gel
Clonex Rooting Gel
The most effective rooting compound available. Just dip cuttings into Clonex Rooting Gel and insert into the rooting medium - follow the illustrated instructions for great results every time.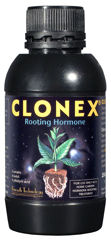 Clonex is the premiere rooting compound. A blend of hormones, vitamins and nutrients in a bright amethyst gel.
Clonex coats the exposed tissue with root promoting agents and protects the area while the new roots form.
Clonex gives great results - even with the most difficult subjects.
Unfortunately the 250mL, 300mL and 1 Litre sizes are no longer being manufactured.
You may also be interested in these related products: