All content Copyright © 2007-2023 Emerald City Supply Ltd.
Kits and Systems
>
EcoGrower
EcoGrower
EcoGrower Drip Hydroponic System.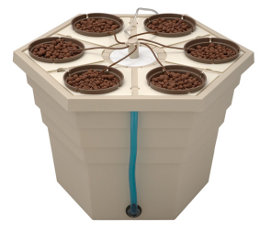 The EcoGrower incorporates an air driven "spider" drip system and uses a revolutionary hexagonal reservoir with removable six inch lid inserts. Each lid insert will accommodate one 6" (15 cm) net pot that can easily grow very large plants.
This system is sized 2' x 2' (60 x 60 cm hexagonal), and 43 cm high.
It is sold as a complete system only, which includes:
1 65 L reservoir
1 drip spider assembly
1 pumping column
1 cover/ring
1 air line
1 air pump
6 6" (15 cm) inserts
6 6" (15 cm) net pots
Clay pebbles
CocoTek samples
1 Flora Series 1L
1 pH Test Kit and 10g pH Down Dr
1 set of detailed instructions