All content Copyright © 2007-2023 Emerald City Supply Ltd.
Growth Enhancers
>
GreenFuse GROW Stimulator
GreenFuse GROW Stimulator
A product is based on natural plant extracts that will maximise the potential of the plant to produce strong shoots and healthy leaves.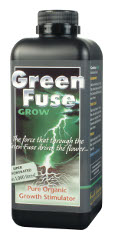 GreenFuse GROW Stimulator can be used at all stages of vegetative growth.
Simply water into the root area at least once per week for best results. It can also be misted over foliage for extra vigour. GROW solution can be used in this way throughout the vegetative cycle.
All GreenFuse Stimulators are highly concentrated. A little goes a very long way so they are extremely economical in use. One 300ml bottle makes up to 300 litres (around seventy gallons) of solution.
Always store GreenFuse in a cool dark place.
You may also be interested in these related products: