All content Copyright © 2007-2020 Emerald City Supply Ltd.
Nutrient Management
>
Hanna EC Meter - Dist 4
Hanna EC Meter - Dist 4
A benchmark Electrical Conductivity meter.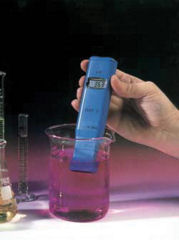 EC Meters are used for testing the Electrical Conductivity of a solution. It is a way of measuring the amount of dissolved salts in a nutrient solution and thus its "strength".
Hanna is the biggest manufacturer of meters in the world and this is one of their best selling products. There are cheaper meters for sure but for accuracy and reliability in this price range we would have to recommend Hanna.
Hanna EC Meter – Dist 4 - (Hl 98304)
Range 0 – 19.99 mS/cm
Graphite sensors for long life
Automatic temperature compensation
Resolution .01 mS/cm
Rugged and durable contruction