All content Copyright © 2007-2023 Emerald City Supply Ltd.
Nutrient Solutions
>
Crop-specific Nutrients
>
Houseplant Focus
Houseplant Focus
A nutrient solution for houseplants, carefully formulated to optimise growth in less than ideal conditions.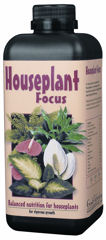 Houseplants live in difficult circumstances. Their conditions are often too dry and their light supply can be inadequate. Soil in pots can quickly become compacted and infertile and the plant will inevitably decline.
Houseplant Focus is designed to support healthy growth and good soil fertility over the long term. It is formulated from both mineral and organic sources and designed specifically for plants in pots or containers. It is also very suitable for application to plants in greenhouses or outdoors.