All content Copyright © 2007-2023 Emerald City Supply Ltd.
Nutrient Solutions
>
IONIC Nutrients
>
Ionic for Coco
Ionic for Coco
A dedicated formulation for plants growing in coco (coir) medium.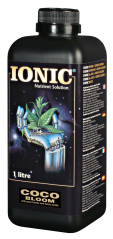 All Ionic formulations are single part nutrients with very specific applications in mind. This one, available in GROW and BLOOM options, is engineered to get the best possible results from Coco. Highly recommended.
You may also be interested in these related products: