All content Copyright © 2007-2020 Emerald City Supply Ltd.
Plant Propagation
>
Heated Jumbo Propagator
Heated Jumbo Propagator
Perfect propagator for hobby to semi-professional level.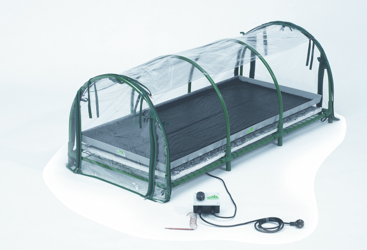 Bio Green Jumbo is an amazing propagator, all packed up in a neat little box. Easily assembled, it can hold several large trays of propagation cubes and - thus - several hundred clones.
1200mm x 500mm x 500mm high.
Carton size 63 x 44 x 10 cm.
Weight 4.0 Kg.
Includes heat mat and thermostat for accurate bottom heat.
High top allows use with larger plants.
Easy access through zipped sides and ends.
Assembled in minutes – no tools needed.
THREE YEAR warranty on Heat Mat.
Jumbo Applications
Propagation - a warm and humid atmosphere ensures brilliant success with cuttings of many species.
Plants - delicate plants and exotic tropicals will flourish in the protective environment found inside the Jumbo.
Over-wintering - cherished plants can be held in a Jumbo through the cold dark months and be kept in prime condition for the following summer.