All content Copyright © 2007-2023 Emerald City Supply Ltd.
Nutrient Solutions
>
Crop-specific Nutrients
>
Olive Focus
Olive Focus
A unique liquid concentrate for olives.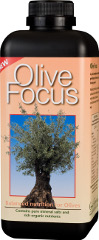 Olives are increasingly popular and make stunning feature plants, especially as they grow old and gnarled. In the UK they are usually grown in containers in the greenhouse or conservatory.
Olive Focus is based on commercial olive nutrients, as manufactured by Growth Technology for over twenty years.
Growth Technology is the leading supplier of mineral nutrients for commercial olive groves in Australia, and are very well versed in their nutritional requirements. Olives will benefit from properly formulated nutrients applied regularly.