All content Copyright © 2007-2020 Emerald City Supply Ltd.
Growth Enhancers
>
Orchid ULTRA
Orchid ULTRA
A Growth Enhancer designed specifically for Orchids - Orchid ULTRA can encourage and support bushier growth, brighter flowers and long term performance.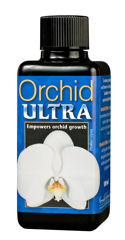 Orchid ULTRA contains a vast array of natural growth enhancers and organic co-factors, including:
Vitamins
Amino acids
Humic acids
Fulvic acids
Exotic trace elements
ULTRA solutions are blended from highly active plant extracts and are richly endowed with pure humic and fulvic acids. They are highly concentrated - a little goes a very long way. Ultra solutions are especially recommended for specimen plants grown for sale or exhibition.
Orchid Ultra is recommended for use with all of the major orchid species and hybrids - full instructions supplied.
Ultra Solutions are not fertilisers, they are growth enhancers. A proper mineral nutrient solution/fertiliser, such as Orchid Focus will also be needed.
You may also be interested in these related products: