All content Copyright © 2007-2020 Emerald City Supply Ltd.
Nutrient Management
>
ph PRO Digital pH Meter
ph PRO Digital pH Meter
A best selling and extremely high quality pH meter.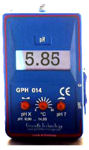 While our pocket pH meters are handy, portable and great at what they do, some customers find the slight loss in portability with the pH PRO to be outweighed by its reliability, accuracy and ruggedness.
Replaceable electrodes dramatically extend the life of the pH PRO
Shipped completely ready for operation, electrode and battery inclusive. Buffer solution not included.
Technical data :
| | |
| --- | --- |
| Measurement range | 0.00 - 14pH |
| Resolution | 0.01 pH |
| Accuracy | +-0.02 pH +- 1 digit (at rated temperature,25°C) |
| Input resistance | 10^12 ohm |
| ph-Electrode | Single-rod measuring cell (part code PHPROELEC) with a refillable 3 molar-KCl electrolyte, 2-12 pH, 0-60°C |
| Calibration | 3 point |
| - Temperature Compensation | 0 to 90°C |
| - pH 7 value | |
| - pHX value ( e.g. 4.0, 10.0 , 12,0 ) | |
| Working Temperature | 0 to 45°C |
| Display | 3 1/2 -digit, 13 mm vertical LCD display |
| Electric power supply | 9V battery - included in delivery |
| Operating time | approx. 200 operating hours |
| Battery-Change-Display | BAT, shown automatically when battery voltage becomes insufficient |
| Measurements | approx. 106 x 67 x 30mm ( Height x Width x Depth ) |
| Box/Case/Enclosure | impact-resistant ABS |
| Weight | approx 200g, including battery and electrode |
You may also be interested in these related products: