All content Copyright © 2007-2023 Emerald City Supply Ltd.
Pest and Disease Control
>
Pyrethrum 5 EC
Pyrethrum 5 EC
Concentrated organic pesticide.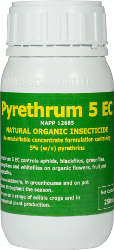 This totally natural insecticide is effective against most horticultural pests, including aphids, blackfly, greenfly, caterpillars and whitefly. It will also control thrips, red spider mite and other pest insects.
Because of its very low toxicity and short persistence, crops can be harvested 24 hours after application.