All content Copyright © 2007-2023 Emerald City Supply Ltd.
Growth Enhancers
>
Super Drive
Super Drive
A concentrated solution of vitamins and growth enhancers for superior plant performance.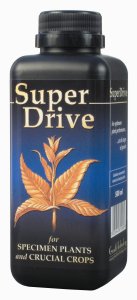 Super Drive is manufactured in Canada and is renowned for its effect on plants. It is often used to give plants an extra burst of vigour prior to exhibition or sale. Super Drive contains natural plant extracts blended for maximum effect.
As with all the growth enhancers we would suggest that you experiment with a few plants before treating every plant in your collection.